SyFy Saturday Bartow
By Amy Kerr, Public Relations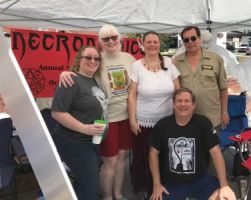 It was a warm day for February 17th, but we soldiered on and promoted Necro at the Bartow SyFy Saturday! In attendance were Ann Morris, Mark Jones, Alex Jones, Lois Polk, Amy Kerr, Marna & Jack Faber, and Dave & Traci Zielinski.

We marveled at those brave enough to costume in the 80-degree weather as we watched a parade of sci-fi fans young and old walk past our booth. There were some exceptional cos-plays going on out there and those that donned them were happy to pose for pictures and find out more about us.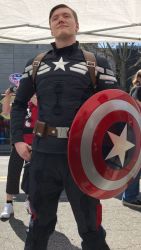 This Captain America was happy to get some on-the-spot costuming advice from Mark Jones and impressed to hear that we have panels on cos-play at Necro. Can't wait to see you there, Cap!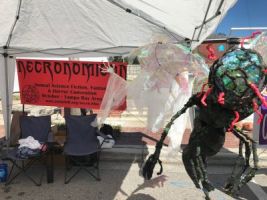 Those that stopped to admire Mortimer (Morty) the Mi-go and Richard (Rick) the Ghoulish Specter or take pictures in front of our rock wall were delighted to hear about our convention. Others remembered attending in years past and were encouraged to see that we were still going strong and looked forward to attending again!

Another development: A representative from the Haines City library came by and handed his card out. He's looking to organize something like Bartow SyFy Saturday in Haines City in conjunction with the local library. I've been in contact with him and we're awaiting more information about his event at this time.

Stay tuned for more Necro news!

Here are some pictures of the various things going on at SyFy Bartow. Click on each for a larger version.


| | | |
| --- | --- | --- |
| Migo on Display | Da Empire is in da House! | Holy McGuffin! |
| There are LOT of them to call | Once upon a time in Bartow... | 23 MPG (miles per ghost) |
| By your command. | Where is the Galactica? | Atomic batteries to power, turbines to speed! |
| Riddle me this... | How can he steer? | What the well armed raider is driving. |
---
Necro Home Necro News Join Us Hotel Guests Dealers Gaming
Art Show Schedule Charities History Contact Us Site Map
Master Page Stone Hill Necronomicon Southern Media Con Links