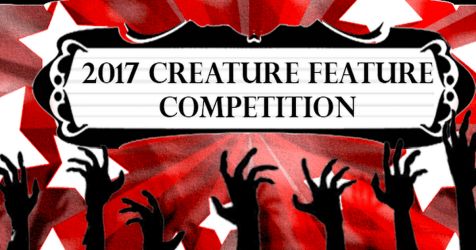 Creature Feature Competition
Film Festival at Necronomicon
What is the Creature Feature Competition?

Filmmakers will be assigned a random creature and genre during the kick-off event and will have two weeks to make a 5-8 minute film.

Frankenstein. Nosferatu. The Toxic Crusader. The Creature from the Black Lagoon. Legendary creatures which have sparked the imaginations of audiences for all cinematic history.

And now it's your turn. Make a monster film. Present it at a fan convention. And 100% of profits go to charity, making the registration fee a charitable contribution for tax purposes.

The Creature Feature Film Competition, in association with Tampa Bay's long-running Necronomicon convention, is a chance for you to bring a cinematic creature to life. Grab your crew, pack your monster make-up and make a 5-8-minute movie in two weeks starting at the end of September. It's open to filmmakers at any level, so if this is your first film of your 40th, you're welcome to join! And although the films will be shown in Tampa, anyone from anywhere in the world can participate. Whether you're in Seattle or Senegal, St. Petersburg, Florida or St. Petersburg, Russia, we encourage you to join.

Why would I do this? What's in it for me?


Fame! Glory! Your film will be shown as part of Tampa Bay's Necronomicon, a convention for Sci-fi, Fantasy, and Horror fans.
Awards!
Kids and puppies! No, seriously, kids and puppies. All profits go toward Kids and Canines, a charity which works with at-risk teens, teaching them how to train assistance dogs. You can read more about them at http://KidsAndCanines.org.

So, it all goes to charity?

Our time is 100% donated, so all profits go directly to charity, not to our pockets.

So, do it for the kids! Do it for the puppies! Do it for the awards! Or do it because you want to make a movie about a creature that will be seen and enjoyed by tens of people and maybe even some puppies.

And in case you're wondering, you keep the rights to your film. None of this "we own it, sign away your rights to us" stuff other competitions use. Of course, there is more to that, so be sure to read the small print when you have a chance, but we're filmmakers too, and we work to be fair. That's it! Don't wait! Sign up now!

Like our Facebook page for updates! https://www.facebook.com/CreatureFeatureCompetition/

Let us know if you have any questions!

Awards & Prizes

Separate awards are given based on the three categories.

Awards for General Registration:
Best Film
Best Performance
Best Script
Best Cinematography
Best Directing
Best Editing
Best Creature (Design and usage)
Filmmakers in the Novice category will have the opportunity to win awards for Best Film and Best Script.

Filmmakers in the Student category will have the opportunity to win an award for Best Film only.

For a full list of rules and how to submit entries; go to the Film Festival Rules page.


---
Necro Home Necro News Join Us Hotel Guests Dealers Gaming
Art Show Schedule Charities History Contact Us Site Map
Master Page Stone Hill Necronomicon Southern Media Con Links