New Hotel FAQ
Grand Hyatt Tampa Bay

.

You've moved AGAIN? Where to?
Grand Hyatt Tampa Bay
2900 Bayport Drive
Tampa, Florida, USA, 33607
Tel: +1 813 874 1234
Fax: +1 813 207 6790

But why? I liked the old hotel!
Tampa is a better location than St Pete for people to travel to. As nice as the neighborhood was, our heart is in Tampa. (Safely hidden in a secure, trapped and monster guarded dungeon.)

Ok, so how much are the rooms?
Rooms Single/double - $135 for 2 people.
(so, you only have 2 people, right? wink, wink, nudge, nudge.)


How can I make reservations?
You can go to this specially created link:
Grand Hyatt Reservations
A block of rooms have been reserved for October 2, 2014 - October 6, 2014. The special room rate will be available until September 22nd or until the group block is sold-out, whichever comes first.


How do I get there?
Here is what the hotel says about that:
Directions are also be posted on this website, on the Directions page.

Ok, what's the deal with parking?
TL:DR. Parking is Free. Don't park on the office side on Friday.
Ready more on the Parking Info page.


What's to eat in the area?


What's the layout? Where will (insert event) be held?
The program book and grid schedule at the Con will list what rooms things are held in. Expect a PDF of the progam book on the Necro-File page about a week or two before the Con. Look to the bottom of this page for a hotel map for last year. (

So, what's the place look like?
Here are links to the hotels layout page.


The con suite will be on the 2nd floor, just down from Gaming. Of special note: Food from the Con Suite MAY NOT be taken out of the Con Suite area. If you get it there, you eat it there.

As ususal, click image for a larger version.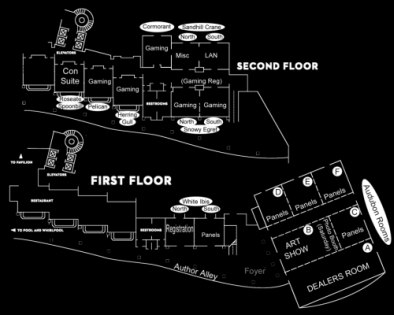 ---
Necro Home Necro News Join Us Hotel Guests Dealers Gaming
Art Show Schedule Charities History Contact Us Site Map
Master Page Stone Hill Necronomicon Southern Media Con Links