T-Shirt Design Contest
Also see: How to make a Necronomicon T-Shirt design An essay on the theory behind shirt designs.
---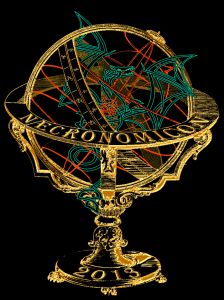 The design at the right was used in 2013. Here are the details for submitting a desigm for our 2018 shirt. We look forward to seeing what YOU, The Artists, send us!

As we have done for the last few years, this year the majority of the T-shirt sales will be done via pre-order. To do this it means we are asking for designs earlier then before. Much earlier. On the plus side, pre-ordered shirt will get a price break and you will be assured of having the size you wanted.

The upshot of this is that we are looking at a deadline of September 9th as the day we decide on a Shirt Design. And if your design is chosen? What do you get? Well, you get the satisfaction of having your art on the Shirt. We will also give you two free shirts and you will be imortalized on these pages.

If you are interested in submitting a design, please contact the T-shirt admin guy, Mark Jones. Here's some information on creating a design:

All designs should be in our hands (either physically, or electronically) Sept 8th, at the absolute latest. On September 9th, the members at the Stone Hill meeting will vote on the design they like best. If you are going to submit, good communication with Mark Jones, the T-shirt admin, is important.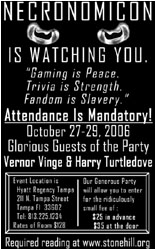 In past years, the Program Book Guys have picked a theme to use as the humorous slant of the writing. In 1995, they did "Necronomicon for Numbskulls" and in 2005, they decided to raise the educational bar and do "Necronomicon University". While the T-shirt design does not HAVE to follow the theme, it has on a number of years. ('96,'98,'99,'00,'01,'02,'04,'06, '07, 08, 09, 2010, 2011, 2012, 2013, 2014, 2015) To the right is an advertisement that was in the Oasis program book for 2006. Use this to give you an idea of the writers bent. (or is that bent writers?)

In 2016, the program book theme is: Ghosts of Necronimicon: The Haunting of Stone Hill House
Think of Ghosts, Spirits, Hauntings and other stuff that goes bump in the night. From the Creepy to the Kooky and whatever else your imagination suggests.

You don't HAVE to stay with the Ghost theme, but it will be voted on by club members, and they've always liked a well-done concept

Expect the design to be on a black shirt. Those sell the best. You can use colors; White plus 2 or 3 others if need be. The design must have the words "Necronomicon" and " 2018 " on it somewhere. Extra verbage is allowed.

The long sleave shirt may have something on the arm. It's not necessary for you to include this part, but you can if you like. Usually Necronomcon and a symbol of some sort. If you click this link, you can go to the T-Shirt History page, where you will find a compilation of all the t-shirts for the past 30-plus years.

If possible, but not required, use the "necro glyph" in the design. Below are a couple of variations and formats. If you need it in another format, please email me with the details. If you have any questions, please write. Mark Jones



Click the image to download a 1.2mb zip file that contains:
One layered, Photoshop 7 .PSD file, 1600x1600 in 200dpi, 1.5mb
One 1600 x 1600 200dpi .JPG file white on black, 740K
One 1600 x 1600 200dpi .JPG file black on white, 740K



---
Necro Home Necro News Join Us Hotel Guests Dealers Gaming
Art Show Schedule Charities History Contact Us Site Map
Master Page Stone Hill Necronomicon Southern Media Con Links