... In The Necronomicon
Program Book
The Necronomicon 2018 Program book will have a print run of about 700 copies. We set a limit on members and also give books to the staff, guests, and dealers. If you are interested in advertising in the program book, then here is what you need to know.

To the right is the cover for the 2016 Program book. When we have the Art for 2018, it will be posted here

Price
There are four prices depending on what and where.
$90 Full Page
$50 Half Page
$125 Inside front
$125 Inside back cover
$150 Outside back cover
(Obviously, there are only two inside covers and one outside back cover.)
When the cover pages are sold, it will be noted here.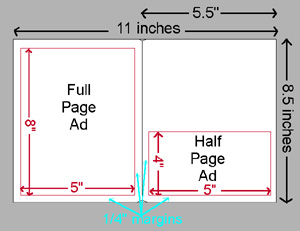 Size
Our program book is made up of a standard piece of paper in landscape position, folded in half. Thus, a full page is 5 ½" by 8 1/2". As the figure to the right shows, you will need to leave a Ό" margin around your ad. So the actual printed material of your add should not exceed 8" by 5". The half page add should not exceed 5" by 4".

Format
Our program book is assembled in Pagemaker. Using this we can accept electronic submissions in the form of .pdf, .jpg, .gif, and .tif files as standard. Check with us if you are using some other format. If you are not going to send it electronically, then send a camera ready copy to the address below.

Deadline
The sooner the better. We will be working on the program book in September & October. Absolute, final, deadline will be October 1st, 2017. If you agree to placing an ad, we'll start bugging you to get it to us as the deadline gets closer.

Contact
For questions, or to place an advertisement, please contact Mark Jones at jomark@stonehill.org. If you are going to be mailing an ad, send it to the Stone Hill P.O. Box address:
  Mark Jones
  5902 Thonotosassa Rd
  Plant City, FL 33565-5714

Payment
You can pay by check, money order or PayPal. Payment will be expected at the time you place your ad unless other arrangements have been made with the staff. Please make your check payable to either: Necronomicon or Stone Hill SF Association. It can be mailed to:
  Necronomicon
  5902 Thonotosassa Rd
  Plant City, FL 33565-5714

PayPal payment can be made using the code NECRONOMICON,INC. That must be all caps, no space and include the period at the end.
Please place a comment with it, such as: "Program book; full page ad".
---
Tips and Hints
If you are creating your ad in some electronic form here are a couple of suggestions.

If you would like to see a sample of the program book, you can check out a PDF version any of these past years:
2002 program   2003 program   2004 program   2005 program   2006 program   2007 program   2008 program   2009 program
2010 program   2011 program   2012 program   2013 program   2014 program   2015 program   2016 program   2017 program  
Set your colors to grayscale. This is better to work with than RGB or CMYK, as it will only come out in gray after it is printed.
Start with a resolution of at least 300 dpi. Don't go overboard with this setting, as the higher it is, the larger the file it creates.
Photographic images will not reproduce too well in the printing process. Work with clip art, or high contrast images. Test print it in the 8x5" size on a laser printer. If it looks good there, it will probably look good in the program book.
File format of .PDF is prefered, but I can convert it from .GIF, .JPG and .TIF if need be. Contact us first before you send it in any other format. If you are sending it in a .TIF file, use a Zip program to compress it before transmission. They're huge and it just works better that way.
Reserved Advertisers
Inside Front Cover:
Inside Back Cover:
Outside Back Cover:

Inside Pages so far:
Oasis 2017 SF Convention(full page)

---
Necro Home Necro News Join Us Hotel Guests Dealers Gaming
Art Show Schedule Charities History Contact Us Site Map
Master Page Stone Hill Necronomicon Southern Media Con Links