Necronomcion History
2002
Jump to: '82  '83  '84  '85  '86  '87  '88  '89  '90  '91  '92  '93  '94  '95  '96  '97  '98  '99  '00  '01  '02  '03  '04  '05  '06 
Oct 4-6, 2002
Crown Plaza, Sable Park, Tampa
Guests of Honor:
David Brin
Tim Powers
James P. Hogan

Here is our badge for that year.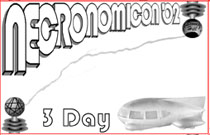 Click for a larger version of all the badges, each with a variation in the design.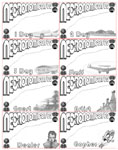 This is the program book.
Click the image for a PDF version of it to read.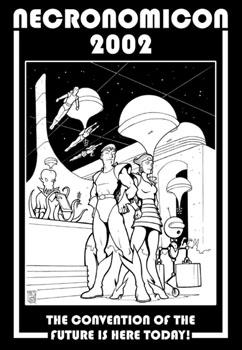 This is the tshirt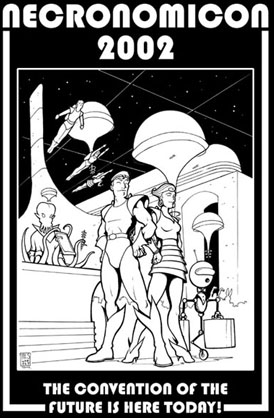 Necro Home   Necro-File   Guests   Events   Directions   Schedule   Panels   Art Show   Masquerade   Gaming
Master Page   Stone Hill   Necronomicon   Vid/Con/Games   Links