Necronomcion History
1983
Jump to: '82  '83  '84  '85  '86  '87  '88  '89  '90  '91  '92  '93  '94  '95  '96  '97  '98  '99  '00  '01  '02  '03  '04  '05  '06  '07  '08 
Oct 28-30, 1983
Holiday Inn Downtown Tampa
Guests of Honor:
Piers Anthony &
Robert Adams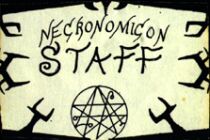 After the first year, we learned some valuable lessons in how to put on a convention. Since the first didn't exactly make much seed money, we spent lot of time and effort in fund raising. The most common method was taking computer paper for recycling. Since the cash was low, we invited two Florida authors.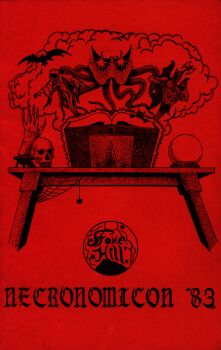 Piers Anthony was such a wonderful supporter, we've had him back as Goh twice more. Robert Adams continued to return to Necronomicon and supported us for many years. Other guest included new writer (at that time) Steve Boyett, who played Piers in a Ping-Pong tournament. A favorite was also Deland artist Kenny Mitchroney. A local comic store, The Fandom Zone brought Marvel Comics artist Rafael Kayanan.
This year saw a new hotel. We moved to the Downtown Hilton and expanded our programming. There was the aforementioned Ping-Pong Tournament as well as a fun run with Piers Anthony (an avid jogger). We had the Alien Cooking demonstration, several trivia games as well as the standard events. To the right is the program book cover which was done by Jim Von Doltron, whom we have no idea where he is now. This was the T-shirt for that year. The T-shirt was done by Stone Hill artist Terri Crabb (now Jones)Ann Morris and Mark Jones. We made a run of about 75 and silk screened them all ourselves. The screen still exists in a members attic.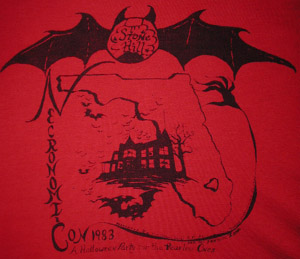 Necro Home   Necro-File   Guests   Events   Directions   Schedule   Panels   Art Show   Masquerade   Gaming
Master Page   Stone Hill   Necronomicon   Vid/Con/Games   Links