Necronomcion History
2005
Jump to: '82  '83  '84  '85  '86  '87  '88  '89  '90  '91  '92  '93  '94  '95  '96  '97  '98  '99  '00  '01  '02  '03  '04  '05  '06 
Oct 28-30, 2005
Downtown Hyatt Regency, Tampa
Guests of Honor:
Peter David
Lloyd Kaufman
George Lowe


2005 pictures available from this link!

If your are also interested, you can view the Guests,  Membership,  Panels,   & Schedule   of 2005
Here is our badge for that year. Click for a larger, readable version.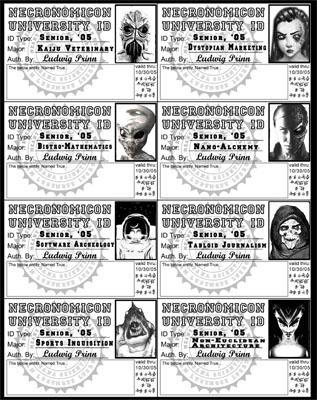 This is the program book.
Click the image for a PDF version of it to read.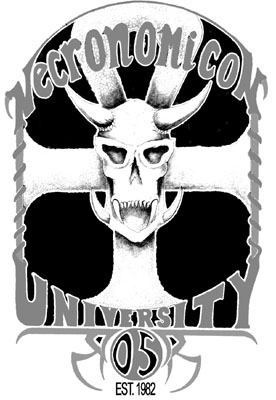 This is the tshirt, Front, Arm(longsleve only), back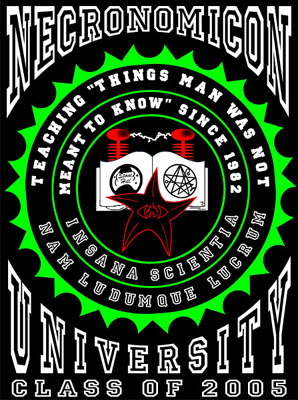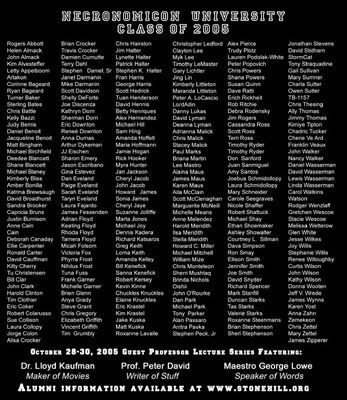 The latin on the front translates as "Mad Science For Fun and Profit."
The back listed all of the pre-registered members to the 2005 convention.
Necro Home   Necro-File   Guests   Events   Directions   Schedule   Panels   Art Show   Masquerade   Gaming
Master Page   Stone Hill   Necronomicon   Vid/Con/Games   Links